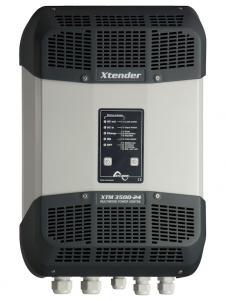 Features
True sine wave voltage.
Reliable and silent with any kind of load.
Outstanding overload capabilities.
Function Smart-Boost for assistance to the source even with difficult loads.
Automatic reduction of peak loads (power shaving).
Multi-stage programmable battery charger with PFC.
Stand-by level adjustable over a large range and from a very low threshold.
Ultra-fast transfer relay.
Control by digital signal processors (DSP).
High efficiency.
Model

Battery

Voltage

Inverter
Charger

Power

P30/Pnom

Power

Smart-Boost

Charge current

XTH 5000-24

24V DC

5000VA /

4500VA

5000VA

0-140A

XTM 3500-24

24V DC

3500VA /

3000VA

3500VA

0-90A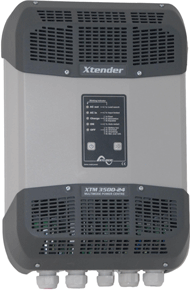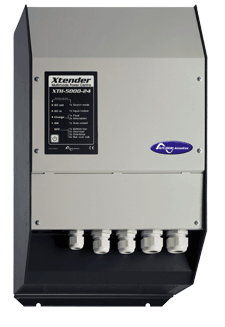 XTM3500-24 XTH5000-24
Function Smart-Boost
The function Smart-Boost enables to add the inverter power to another source, like for instance a genset or the shorepower, even in case of asymetric loads. It is possible to add an Xtender to almost any other existing inverter in order to increase the power available.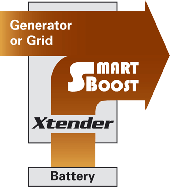 Multifunctional contacts
The potential free contacts can be programmed to provide many supplementary functions. They can react to each event, inside or outside of the inverter (presence of the grid, battery thresholds, alarm signal…). The contacts can also be programmed as time switch or can be disabled during sensitive periods (night, week-end…). They allow therefore the implementation of functions like the automatic start of gensets, the automatic disconnection of second priority users, the alarm signal, the conditional charge of the battery…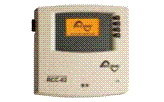 Integration services
At VxI Power we believe that providing a power supply is a small part of our service to the customer. Our extensive battery knowledge and mechanical design capability enable us to provide turnkey solutions for your DC standby application.
We have the on-site ability to supply all of the units we manufacture in a cabinet or rack.
cabinets & racks