New Modbus TCP RTU bridge enables power supplies to be controlled over the internet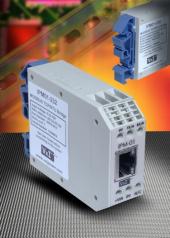 PSU manufacturer VxI Power has developed a new bridge device that allows power supplies with Modbus RTU communications capability to be controlled and monitored over the internet or any other WAN or LAN.
As well as acting as a communication bridge between the Modbus RTU and Modbus TCP protocols, the IPM01 device features an embedded HTTP server that enables the user to view and configure PSU parameters via a web browser.
The device incorporates an RJ45 Ethernet socket and a 3-wire serial interface for either RS232 or RS485 communications - the latter capable of supporting multiple RTU clients. Both versions can deliver baud rates of up to 57600, and LED indicators are provided for serial TX and RX activity.
Housed in an industrial DIN-rail-mount enclosure measuring just 73 x 59 x 22mm, the device has an input voltage range of 9 to 32V and an operating temperature range of -20 to +50 degC as standard, which can be extended down to -40 degC on request.
While particularly suitable for use with VxI's Oracle range of battery-backed Modbus power supplies, the IPM01 bridge can also be used with any other Modbus device, subject to configuration.
Contact details for publication
Tel: +44 (0)1522 500511
Press enquiries to
Grant Ashley
Tel: +44 (0)1522 500511
Or
Rick Bauling
RJB Communications
Tel: +44 (0)1234 782255