Combined inverter-chargers offer versatile solution for off-grid and UPS applications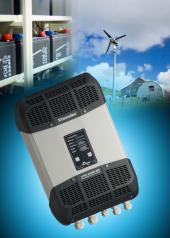 Now available from Lincoln-based power-supply specialist VxI Power is the versatile Xtender range of inverter-chargers, which can be used in a variety of configurations to charge a bank of batteries and convert their DC output into a stable AC supply.
Manufactured by Studer Innotec, the rugged Xtender units are ideal for off-grid renewable-energy installations or for use as uninterruptible power supplies in grid-connected applications.
The Xtender continuously monitors the grid or generator source to which it is connected and, using an ultra-fast transfer relay, automatically switches to inverter mode if the source is missing, disturbed or fails to satisfy the necessary quality criteria for voltage or frequency.
The inverter-chargers employ DSP control for a precise sinusoidal voltage output, while innovative features such as Smart Boost allow the units to overcome local grid supply limitations, permitting peak loads greater than the supply rating.
Offering high efficiency and an outstanding overload capability of up to three times the rated power, the range includes seven models with power ratings from 2000 to 8000VA for battery voltages of 12, 24 or 48V.
The Xtenders feature a multi-stage programmable battery charger with power factor correction, and programmable auxiliary contacts permit interconnection with existing systems or the implementation of extended functions such as generator control.
A fully programmable remote control unit incorporates datalogging to an SD card, which can also store configuration data for system setup. Up to nine Xtender inverter-chargers can be connected together to create high-power single-phase or 3-phase or systems.
For more details, visit www.vxipower.com.
Contact details for publication:
www.vxipower.com
[email protected]
Tel: +44 (0)1522 500511
Press inquiries to:
Grant Ashley
VxI Power Ltd
[email protected]
Tel: +44 (0)1522 500511
or
Rick Bauling
RJB Communications
[email protected]
Tel: +44 (0)1234 782255
17th January 2011 Ref. VX019D1
Contact details for publication
Tel: +44 (0)1522 500511
Press enquiries to
Grant Ashley
Tel: +44 (0)1522 500511
Or
Rick Bauling
RJB Communications
Tel: +44 (0)1234 782255